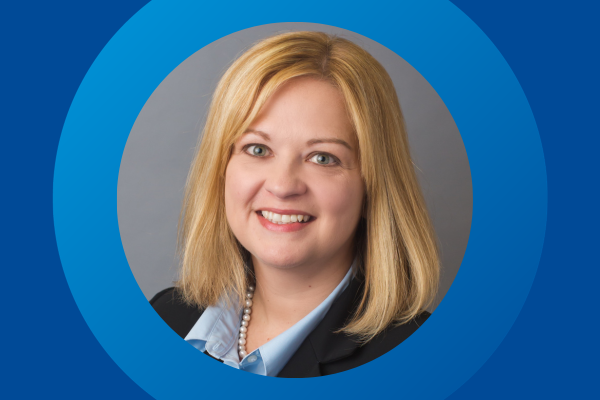 After a comprehensive national search, New Covenant Trust Company is pleased to share that Angela Duffy has been selected as President & CEO. As I approach my retirement on Dec. 31, I could not be more pleased to announce her as my successor.
This announcement is exciting for many reasons. You may already know Angela, as she has served NCTC and the Presbyterian Church (U.S.A) Foundation since 2006, most recently as NCTC's Executive Vice President, General Counsel and Chief Compliance Officer. Her depth of hands-on experience with our important work, her strong faith and ties to the church, along with her exceptional credentials, make her the ideal choice to lead NCTC into the future.
"Angela was selected as President & CEO for her proven track record of successful leadership, and her deep understanding and respect for the values, traditions, and governance structure of the Presbyterian Church," says Doug McArthur, Chair of the CEO Search Committee. "She has worked extensively over the past 17 years to support the church's overall mission, and she has been a critical leader in NCTC's growth. Not only that, but Angela's personal values and leadership style align with NCTC's culture and values, which will ensure a smooth transition while fostering a positive work environment and maintaining consistency in our mission and objectives."
Since taking on the role of NCTC's Chief Compliance Officer in 2019, Angela has been a thought leader in strategic planning, organizational compliance, legal and regulatory issues, client and stakeholder relationship building, and human resources. Prior to that, she served as Senior Vice President, Corporate Secretary and General Counsel for the Foundation, where she helped lead restructuring efforts that streamlined both its investments and operations. She was responsible for assisting with the Foundation's day-to-day management, including strategic planning, litigation, compliance, and donor relations related to complex giving. Prior to joining the Foundation, Angela worked as a practicing attorney in corporate and civil litigation.
Angela not only upholds the faith and values of the Presbyterian Church through her work, she embodies those values in every facet of her life. She earned her Bachelor of Arts Degree in English from Blackburn College, a traditionally Presbyterian college and her Juris Doctorate from the University of Louisville. She has served on the Alumni Board at Blackburn, and is a Ruling Elder in the church.
NCTC is fortunate that this will be a smooth transition. Because Angela has worked in collaboration with me and the leadership team on the key initiatives that have positioned NCTC as the thriving organization our clients rely on, there could not be a better person to take the reins, or a better time to usher in her new leadership.
"NCTC is on a great trajectory, in no small part because of the work and ethics of Greg Rousos," says Board Chair Karen Garrett. "On his retirement, there is no better person to carry NCTC forward. As an integral part of the leadership team for 17 years, Angela is deeply knowledgeable about our work and is entrenched in the vibrant, caring culture of NCTC. With her breadth of expertise in the trust business and her servant leader's heart, I have no doubt that she is the best choice to continue — and expand — NCTC's dynamic work in serving the church."
"It has been a privilege to serve with Greg," says Angela. "I'm excited about the opportunity to take all that I've learned from him and continue his legacy and great work. I am so proud to be a member of the PC(USA), and I am excited to serve our incredible team at NCTC and the church in this new way. As I transition into my new role, I plan to do more listening than speaking so I can learn about new ways we can help both our individual and church clients. As a former member of session of a very small PC(USA) congregation, I understand that any burden we can lift off a congregation is life-giving. I truly view NCTC's role as a ministry partner to each and every client."
Please join me in congratulating Angela. I'm proud to leave NCTC in such good hands.