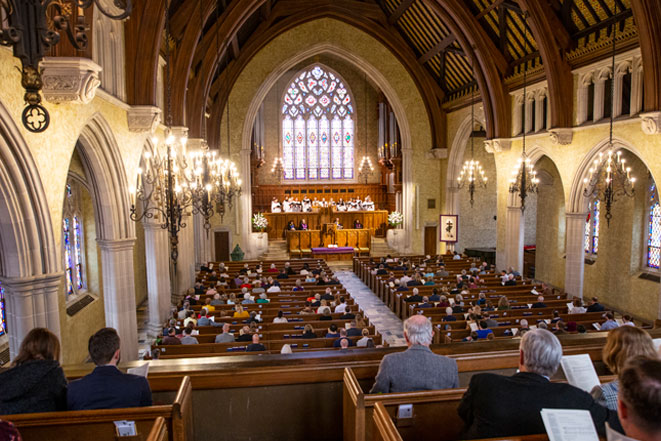 "
You can trust us to help you optimize your investment goals.
NCTC is committed to investing in alignment with your faith, values and goals, and implementing a strategy designed to safeguard your legacy. We follow an evidence-based approach that's backed by rigorous academic research and pioneered by Nobel Prize winners.
"
When you choose us as your investment manager, we'll perform an objective assessment of your goals, risk tolerance and status of your current fund portfolio to develop a customized Investment Policy Statement and Distribution Policy.
We maintain an open architecture platform and utilize a variety of asset classes and sub-asset classes to build your portfolio. Because we focus on long-term sustainability rather than short-term returns, we're able to assemble a portfolio that will help you weather market fluctuations or economic instability.
"
I've been very pleased with the performance at the Trust Company in meeting our investment objectives. I also found them great to work with from an analytics standpoint. Their passion, combined with their expertise, is something that I appreciate. I look forward to sending more business their way.
–Jim Koon, Treasurer, Synod of the Lakes and Prairies
"
In general, we focus more on asset allocation and diversification rather than market timing, along with low internal operating expense ratios, high transparency and high liquidity. We do not use a cookie-cutter approach, however. No two investment strategies are alike. When you work with NCTC, we customize our services for you, down to the smallest detail.
For our institutional clients, one thing that truly sets us apart is our unparalleled knowledge of the Presbyterian Church's operational infrastructure and finances, including:
Church governance and structure

Financial opportunities and limitations

Budgetary challenges

Working with sessions and committees

How to get the most out of endowments

Rules concerning liquidation of property

Asset allocation and customization based on church goals, whether that is income stability or growth over time

How to align a church's investments with its values
You'll find that our fees are very competitive with other trust companies and financial management firms. But unlike other firms, our fees don't go toward CEO bonuses or increasing profits, they go back to the church, helping to fund valuable resources that are offered to you at no charge by the Presbyterian Foundation.
Whether you're investing in your own future or the future of your church or congregation, you can trust us to guide you every step of the way.